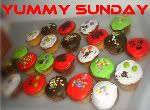 I really like Dimsum they are not only palatable but I observe they are Nutritious and Healthy too. That is why I always go to restaurant that serves Dimsum, at
SM CDO,
Mandarin
(Chinese Restaurant) Velez St. Cdo. I wonder who supply these restaurants of their raw materials so they can cook deliciously!I hope they knew that they can get supplies from
alibaba food
.
This is chicken teryaki. hubby like this, while I prefer their "tao si ba fish"
This is our most frequent order, "chicken feet"