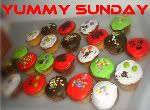 Cozbie was my classmate in Grade six she loves cooking just like me. She shares to me some of her menu that her family love to feast.
Grilled lamb. You must try this. Some supermarket sell lamb meet.
Adobong pusit.
Sweet and Sour "lapu-lapu"



So Yummy right?These are the dishes that we Filipinos like to feast together with our family!