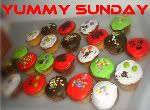 This is one of the things I learned from the Women's Conference I attended "Proverbs 31:14 She is like merchant ships; She brings her food from afar." A woman should be enterprising.... She must find ways to help his husband.
Making this at home does not only allow your family to eat nutritious and clean ( sanitized during preparation) food but also this will be an added income for the family. One recipe cooking 30 pcs. can be sold 300 php will give you a net income of 150 more or less.
Ingredients:
1. 3 c All Purpose Flour
1 tsp. salt
3 tsp. baking powder
2 tsp baking soda
2. 1/2 c butter
1/4 c. oil
1 1/4 c. sugar
4 pcs. eggs
3. 2 c. mashed bananas (green or bululan in Pilipino)
3/4 milk
o butte
4. Optional
nuts, raisins, dried condol, glazed fruits
II- Procedure
1. Preheat oven to 325 F;
2. Sift together dry ingredients (#1)
3. Cream butter, oil and sugar; then add eggs
one at a time
4. Add mashed bananas to
butter (#3)
5. Add dry ingredients (#1) to
banana mixture alternately with milk;
6. Add raisins, nuts, dried condol (optional)
7. Pour to greased pan
( 6x21x29 cm.)
8. Top with raisins or nuts:
9. Bake for 45 minutes.
Yadah.......... you have now a home-made well sanitized and nutritious Banana Muffins. You may enjoined your kids to help you. Then this would be a family Enterprise!
Before you try this, look and search for more of best recipe and yummy food all over the world visit Perfectly Blended!