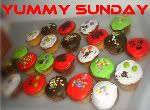 Last November 28 to December 16, 2010, our Tatay Tony paid us a visit. I t was a holiday indeed. One of our trip is "food trip" We test and taste some food in the City.
One of our funny trip was in the BFB
Big Flat Bread
. Tatay Tony ordered 2 biggest pizza. We told him that it's big but then he did not imagine how big it was so he insisted to have two. He said if we cannot consume then we can take it home and have it microwave for breakfast but still it is too big for the family of 7 with 3 boys only and 2 kids. I just finished 2 slices. It was deliciously fun!
Hannah, " Can we finish all of these?"